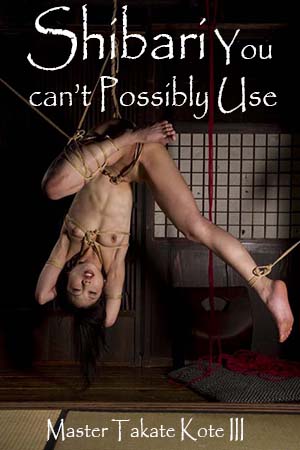 Hot on the heels of his legendary, "Bet You Can't Tie This," Master Takate Kote III has announced a Kickstarter campaign for his new book, "Shibari You Can't Possibly Use."
The combination of mind-bogglingly complex ties and photography, which both obscures critical elements and produces illusions of impossible positions, makes this book a must have for the masochistically minded rope student.  Filled with beautiful pictures and absolutely no instructional advice, this volume is an exercise in self-loathing and frustration.
Sure to get an entire generation attempting to perform nearly impossible and dangerous rope ties that they have neither the experience nor ability to excute, this book is a must have for anyone wishing to feel like they should have never started tying in the first place.
With sections such as "Yeah right," "You Wish" and "Good Luck Loser," you are sure to find inspiration to attempt things that can possibly injure, kill or disable your partner.  But if you succeed, think of the bragging rights!